Pageant footwear can be a total game-changer for any girl competing at any level. Get it right and you look like you got Gisele's legs. Get it wrong, however, and you look clumpy and end up in pain. Lots of pain! I've compiled a few fail-safe tips I've learned over the years so hopefully this will help solve any footwear dilemmas.
Perfect Swimwear Shoes
Firstly, your feet are most likely to be seen in Interview or Swimwear rounds. In
Swimwear
, you need something understated (so as to keep the attention on your body, especially since you worked so hard for it) that will help lengthen your leg and work with a more up-tempo walk. Nude heels are absolutely the best lengtheners going, provided you get the right shade of nude (also allowing for any tan you may build up pre-pageant). Avoid excessive sparkles, straps or fluffy flowery corsage things and keep the heel height as high as you can comfortably walk in. Most swimsuit shoes are open or peep-toe, but closed toe can work provided the toes are not excessively pointed.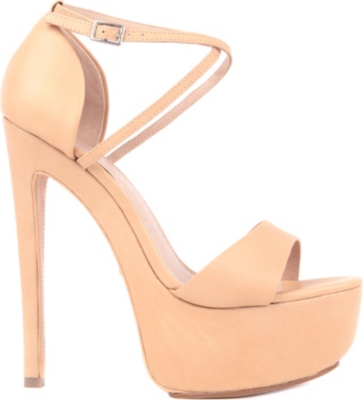 (Nanette Heel, Kurt Geiger)
Perfect Interview Shoe
Pageant Interview Shoe
For Interview, you want something a little more business-like – I always rush to my trusty court shoes for Interview. Ideally, a closed-toe style with a high-but-not-vertiginous heel works best for this round because it allows you to stride in confidently and works well with most
pageant interview
outfits. I'm not a big fan of overly traditional interview suits, but court shoes are versatile and will work with either a traditional suit or a more modern outfit. Nude is again a good color to go for as it works with the majority of outfits.
Perfect Evening Wear Shoe
Evening Gown Pump
Evening wear is a tricky one – many girls get gorgeous gowns and then struggle to find shoes to work well with them, but then others pick a beautiful pair of shoes that don't work with a single gown they try. Which you buy first is up to you, but when shoe shopping for a gown you need to consider the length (you want your gown to be no more than 1in off the ground when walking, otherwise it ruins the flow of your walk and makes you appear shorter) and also the fabric – it's no good wearing crystal encrusted heels with a chiffon gown because the chiffon will be clicked and frayed as soon as it brushes past your feet! However, if your shoes will be on show due to a high slit or a sheer fabric, you want something that looks appealing but not scene-stealing. Many girls now buy one go-to pair of nude heels and wear them for both rounds. Nude is subtle and works with the vast majority of colours, as well as balancing out a heavily beaded gown and removing the difficulty of trying to match colours.
Make Sure Your Shoes Fit!
Universally, there are also some tips to consider when buying shoes that will help prevent injury to your feet. The biggest one to emphasize by far is to MAKE SURE YOUR SHOES FIT. You may love those nude heels but if your big toe is poking out of the side, it doesn't look good or feel good. I saw this with several girls at Miss Universe and my heart sank – it looks as if no-one could be bothered to correctly fit them. Ill-fitting shoes cause corns (painful!), muscular and ligament damage and are a big contributing factor to the onset of bunions in later life. Through my work in retail I regularly see people with terrible foot problems caused by shoe choices in their youth – don't let it be you too. Aside from the fit, make sure you can comfortably walk in them – no sane girl can walk in 6in heels overnight, so allow time to work up to the heel height you require and don't get downbeat if you need to start in lower heels. Your foot muscles and ligaments need time to adjust to this new style of shoe, so trying to master heels in a short space of time could lead to muscle or ligament damage, which could lead to a lifetime of problems! The same can be said of going from 6in heel to flip flop straight after – you need to allow your foot time to recover, so try and gradually ease out of your heels at the end of the night and don't keep your heels on (or off) for too long during rehearsals. Overall, it's just a case of being safe, being sensible and knowing your shoe style.